Motorcycle Shipping Calculator
America's #1 Motorcycle Shipping Company
1-888-347-1391
America's #1
Motorcycle Shipping Company
Leeza Pilon
★★★★★
Fantastic service every thing was very easy, efficient and professional with great communication
John Hollywood
★★★★★
Been using this company for 2-3 yrs now (I am a motorcycle dealer/seller) and they have always been great. No issues and tracking on shipments is great. I will continue to ship my motorcycles with them.Definitely recommend them A+
delmar wilson
★★★★★
Thank you 😊
Blake Cotlar
★★★★★
I got my motorcycle in 7 days even during the holiday. Motorcycle came exactly how they picked it up, no damages. They were very good at communication I would Call for an estimated time on arrival and they would give it to me. I recommend. Venmo: BlakeCotlar
Matthew Kearney
★★★★★
AA were extremely efficient and handled the transportation of my bike really well, including honoring time windows for pick up and delivery.
Steve Haskins
★★★★★
Perfect not one scratch
Thomas Baxter
★★★★★
AA picked up a motorcycle for me in Ohio and delivered it to Montana, on time and with fine communication. A small plastic part was damaged, and the follow up claims process is being handled well. The bike was secured via attachment to a movable pallatte which assured less risk to the forks and removed need to move bike aroound manually. The specialization shown to long distance motorcycle shipping was appreciated.Tom BaxterAbsorakee, Montana
Blu Oval
★★★★★
Placed a motorcycle order with AA Transport and my bike delivered to me in perfect condition several weeks later as expected. AA agent Julia did a great job following through on a couple of initial concerns I had. I love the fact I can make one phone call to AA Transport and their office takes my call right away. Worst case scenario is I leave them a message but they always call me back. A business like this who stands behind their services to ensure I'm satisfied is what means the most to me. Their transport driver Max was friendly, professional and offered to help me push the bike into my storage unit even after it was unloaded. Excellent job, AA Motorcycle Transport!
Richard Hatch
★★★★★
Easy to set up long distance shipping on something as fragile as a fully loaded Harley
Jasyn Jefferies
★★★★★
Great company with low shipping rates! They were very helpful and the customer service was excellent. My motorcycle arrived early and in great condition. Communication was very clear throughout the delivery process. I highly recommend then to anyone looking to ship their vehicle.
John Bud
★★★★★
I used this transport company in October to ship my motorcycle from New Jersey to California. I dropped it off at the terminal in Monroe New Jersey where they inspected the bike for damages and scratches. The motorcycle arrived a week later in perfect condition, even earlier than promised. Every person involved in the process was super nice and extremely helpful. The price was the best....Great company, great service..
T H
★★★★★
Coast to coast, door to door smooth shipping. 5 star highly recommended company. Pleasure to do business with. I thank you so very much.
Abraham Sanchez
★★★★★
From quote request to delivery of my motorcycle, AA Motorcycle Transport proved to be a great shipper service. I was quoted about $175 less than other top rated motorcycle shipping companies which offered the same service. They estimated a pick up date 3 days after I placed my order and picked up exactly on the 3rd day. I really like that they offer tracking and you can check in to see where your bike is at as it moves towards its destination. Transport from North Carolina to California (9 days) arrived 1 day earlier than quoted but since I opted for Door to Terminal service, my motorcycle was not unloaded off of the trailer until 1 day after their delivery date estimation which was not a problem for me. The staff at the terminal were very helpful and friendly when I called them to check status for pick up. Once I arrived at the terminal, they informed me which dock to check in at and wait for them to bring out my motorcycle. I was very pleased to see how it was tied down to a specialized pallet for motorcycle transport. Absolutely no damage or scratches on the bike. Overall this company is great and I would definitely use them again and recommend them to others.
Steve Szczesniak
★★★★★
quote for motorcycle shipping was easy and fast
Powersports Group
★★★★★
5 Star - THANK YOU
Sal
★★★★★
It was quite painless shipping my motorcycle with AA and Debbie was quite patient with me. After payment they hooked me up with Corovan as the carrier. They came to the house with a custom motorcycle rack. The bike gets strapped right into it. The men who picked up the bike said they are the best motorcycle shippers out there and I believe it. One huge plus is you don't have to turn over the keys. The first shipping company I looked at wanted the keys to my 800cc Ducati. I don't think so. I guess my only question now is could I have went directly to Corovan and saved money without AA as the middle-man?
Bernice Nelson
★★★★★
My buddies and I went off roading. We shipped our dirt bikes all nasty and full of mud. Too bad they don't wash motorcycles! I'll be back.
Colleen Cooper
★★★★★
I bought online and needed my ride picked up at the dealership. The dealership took pictures and the when the shipment arrived, there were no damages. I recommend that the person or dealership you're buying from sends a video along with photos.
Dru Ibarra
★★★★☆
I had some trouble scheduling a delivery date with them, but the delivery turned fine.
San Balachandran
★★★★★
Shipped my motorcycle cross country from CA to FL. Couldn't have been more satisfied! Bike was delivered in the exact same condition it was dropped off in. Got my bike across the country in under 2 weeks at a super affordable price! Delivered before the the due date given, even though the drop off location is considered remote due to the fact that they don't have any terminals close to there. All customer service reps I talked with on the phone were very helpful and courteous. Thanks AA Motorcycle Transport! Much appreciated!
Bill Haynsworth
★★★★★
online quote widget was easy and fast.
Robert Baxter
★★★★★
Shipped a motorcycle from Montreal to San Diego. Was originally quoted 2+ weeks for delivery, but it arrived in 9 days. Bike arrived in perfect shape, not a scratch.
Arnold Ho
★★★★★
This review is for the online quote process only. Great tool. Review for the actual move will be done separately.
Trippdog24
★★★★★
I had a good experience with AA Motorcycle. No damage, and bike arrived in a reasonable time frame.
Sean McReynolds
★★★★★
Easy dropoff at tacoma terminal, and it arrived in Southern California on first day of estimated window. Chose option of 4-hour window, arrived in middle of that window. Arrived in same condition I sent it with. Cheers!
Daniel Meredith
★★★★★
Excellent jobNeed to work on the tracking part though
Doug Matson
★★★★★
Great price and fast service!
Daniel Tedesco
★★★★★
Everything went exactly as described !! Excellent service !! Price was extremely reasonable!!! Thank you !!
George Blumberg
★★★★★
It was so simple
Mick Jurynec
★★★★★
I had nothing but a positive experience. Great communication. Total transport time was exactly 7 days from pick up to drop off door to door (Midwest to Southwest). Easy to schedule pick up and drop off times. Crew was on time.
Chief Brody
★★★★★
Great experience with AA Motorcycle transport. Their customer service explained the difference in logistics between shipping door-to-door and shipping terminal-to-terminal, which is the better option when short on time. I dropped the bike off in Los Angeles on Friday and it arrived in St. Louis next Tuesday in the morning. The price was far below their competitors. I will use them again anytime I plan to ship my bike.
Bob Morris
★★★★★
AA Motorcycle Transport did an excellent job in transporting my motorcycle from Texas to Minnesota. Not only did it get here in a timely fashion, but there followup was superb. I had a small issue with a scrape on a chrome piece on the muffler of the bike. A $150 part. The problem is I didn't notice it until one day later after I signed off on the delivery. I followed the proper direction, and turned in the damage claim. A week later I received a letter from CRST Specialized Transportation stating that I had signed off on the delivery and "Because of this, STI must respectfully decline settlement on this claim". AA Motorcycle did not agree with the outcome of my claim, and sent me a check for the amount of the claim to replace the part. Being in business for myself for 41 years I understand that not everything goes perfect, and it's how you handle customer situations like this that keeps your business going for years to come. My hats off to AA Motorcycle Transport for putting the customer first, and resolving this issue. A rare find in todays business world.Thank You,Bob
Karen Hodges
★★★★★
Great company to work with. Very Customer oriented. Took great care of our bikes. Time from pick up to delivery was very quick. Handling of bikes and care was as if the bikes belonged to the drivers.Very professional and responsive to our needs. Our bikes were transported from Utah to Texas. Streetglide and Ultra.Highly recommend.
Daniel Steger
★★★★☆
bike got here. had no damage ,was told windshield would be bubbled wrapped it wasn't i personal would have liked to seen more protection just setting on a skid .looked like at anytime bike could get hurt .just happy it made it here .I was also told that bike would be covered wasn't .the office was very friendly answered all my question and made arrangements to have it delivered to my warehouse when I was going to be there
Tony Minutillo
★★★★★
Great guys to move a bike. Had a Ducati shipped from Orlando to Denver and could not be happier. Great company, easy to drop off at a shipping hub, and delivered it sooner than i expected. Use these guys you wont regret it.
John O'Connell
★★★★★
You wrote a review for AA Motorcycle Shipping3 days ago5.0 star rating8/14/2017I had a BMW F650 transported from Riverside CA to the Washington DC area by AA. My experiences with them were super positive. First of all the price was very affordable. I went on to their site, put in my bike specifics (make, model, year and dimensions) and out pops a very affordable quote of 685 to ship coast to coast. Through the process the site was very informative with current updates of where the bike was and emails told me when the bike would be delivered. If there were any questions I picked up the phone and called and within a ring or two spoke with a real live person. Debbie was especially helpful. Also everyone along the logistic chain were very polite and helpful. Lastly they advertise door to door service and that is exactly what I got. Cant say enough good about AA!
Rick Beck
★★★★★
Picked up when promised and delivered within the 7 day window also as promised. Driver called to give us a "heads up" and there was no damage!Price was competitive and service was great.
Thom Bauser
★★★★★
Very quick to get it all the way from New Jersey to California. Very competitive price and my bike was transported with zero issues.
Miranda Manning
★★★★☆
Was very satisfied with my shipment. Only took a few days to ship, shipped faster than I thought. No damages done to my motorcycle and was the cheapest rate I could find. Would highly recommend!
David Holley
★★★★★
From time to time I have motorcycles shipped and the results have ranged from good to less than good. This last time I had a bike shipped from MI to FL and I used AA Motorcycle Transport for the service. Best decision I have ever made for shipping and I will never use anyone else. Best service, best price, and best results. The entire process from obtaining a quote to receipt of the bike ran like clockwork. The staff at AA (that would be primarily Julia) were very friendly, helpful, and efficient. The bike was secured on a palette loaded in an enclosed trailer and arrived in FL looking exactly as it did when it left WI. I cannot ask for more than that.If you want to ship a bike call Julia at AA Motorcycle Transport.
Kevin Hawley
★★★★★
On time and service was good
Vin McDougal
★★★★★
A great overall experience with this company. I found the prices to be some of the best available. The delivery time was also more than reasonable and the bike arrived looking great. The crew was also friendly and helpful. If I ever need to ship it again I would definitely use their services.
Carroll Brown
★★★★★
My son received the motorcycle the morning of the day after. NOT BAD GUYS. Ian said it was in excellent shape and was very pleased with the people that delivered it. Really good experience. Thank you very much
Greg Janko
★★★★★
I have used AA Motorcycle Transport several times and will call on them for future services. Totally professional from pickup to delivery and tracking is a great feature. Most importantly the bike is secured to a pallet and in my case they bubble wrapped the fairing and windscreen.Do to my work schedule I was able to pick up the motorcycle at the local terminal which was more convenient for me. Cost is reasonable, Oregon to Indiana $665 and delivery was less then two weeks after booking.
Pomeranetz Yitschak
★★★★★
Very good service I recommend this company.
Shipping a motorcycle can be a complex process. To ensure the safe transportation of your beloved two-wheeler, it's important to understand different costs associated with shipping and the various ways you can move this type of large cargo.
How Shipping a Motorcycle Works
It's generally a three-step process when it comes to shipping a motorcycle: Step one is preparing the bike for transport. Before it even goes on the truck, the motorcycle must be prepared for transport by draining all fluids, packing and securing its parts, and possibly putting it on a pallet for easier loading. Step two is picking up and transporting the bike – which typically involves using an open motorcycle trailer or heavier-duty hauler depending on how far away you are shipping. Finally, step three is receiving the bike. This could mean unloading from the transport truck yourself or having a company deliver it to your door upon arrival.
Sample Motorcycle Shipping Rates
| To / From | Distance | Cost | Estimated Transit Time |
| --- | --- | --- | --- |
| Los Angeles, CA to San Antonio, TX | 1350 miles | $625 | 1 week |
| New York, NY to Los Angeles, CA | 2800 miles | $845 | 2 weeks |
| Chicago, IL to Miami, FL | 1380 miles | $734 | 1 week |
| Houston, TX to Newark, NJ | 1600 miles | $735 | 1 week |
| Phoenix, AZ to San Francisco, CA | 750 miles | $734 | 5 days |
| Miami, FL to Seattle, WA | 3300 miles | $800 | 2 weeks |
| Denver, CO to Norfolk, VA | 1760 miles | $735 | 1 week |
| San Jose, CA to Boston, MA | 3135 miles | $845 | 2 weeks |
| Dallas, TX to Chicago, IL | 970 miles | $595 | 1 week |
| San Diego, CA to Las Vegas, NV | 335 miles | $495 | 2-3 days |
Military Discount Upon Request
The Only Thing We Do Is Motorcycle Shipping
We are a full service professional motorcycle shipping company. We ship motorcycles state-to-state and across country (USA). While there are many companies on the internet, we are the only one confident enough to give you an instant quote. The price you see is what you get. We don't "upsell" or do "add-ons" like the competitors.
Nobody can beat our instant motorcycle shipping calculator. All you need to do is enter the pickup and drop off zip codes, year, make and model.
BEWARE! Other motorcycle shipping companies will take your information and sell it to many shippers. They are known as lead generation companies. AA Motorcycle Shipping is licensed and bonded. Verify here enter US DOT# 2244295
If you need your motorcycle to arrive by a specific date, CALL US, do NOT fill out the quote form. 1-858-578-3336 or Toll Free 1-888-347-1391. Obtain pricing for a specific shipments. Great for motorcycle events, vacations, etc.
Factors that Affect the Cost of Motorcycle Shipping
There are several factors that affect the cost of motorcycle shipping: distance, size and weight of the bike, additional services such as packing and storage, insurance coverage and transit times. Generally the further away you are shipping your bike and the bigger or heavier it is, the more expensive it will be to ship. Additional services such as packing, storage, and insurance may also increase the price of motorcycle transportation.
Benefits of Using AA Motorcycle Shipping
Reliable and specialized motorcycle shippers since 1983
Competitive rates for door-to-door motorcycle transport
We only use trucks with liftgates. We do NOT use ramps to roll your motorcycle
$7,000 insurance included
Reliable and specialized motorcycle shippers since 1983
We give instant quotes unlike other companies
Instant online tracking of your shipment
Door-To-Door Motorcycle Transport
We offer door-to-door shipping and tracking so you always know where your chopper is. We work with individuals as well as motorcycle dealerships. Whether you are a dealership or an individual, you can expect to receive your shipment in the same condition as when it was handed over to us.
With over 35 years of experience, our operations are streamlined to provide you with a worry-free experience.
Safety and Security for Motorcycle Shipping
When transporting a motorcycle, safety and security should always be paramount. Ensure the vehicle is securely enclosed in an appropriate shipping container to prevent any damages or theft during transportation. You should also make sure that your bike has been properly serviced and inspected before it is sent off for transportation. For added peace of mind, you might consider investing in insurance coverage so that you are financially protected if anything were to go wrong during the shipment process.
Non-Palletized Motorcycle Shipping
The motorcycle is strapped to strategically places eye bolts on the floor of the truck. These shipments may take a little longer to load but the in-transit times are shorter since the trucking routes are direct. No on-line tracking is provided. This service is only available on selective routes.
Palletized Motorcycle Shipping
This is the premium service, where your motorcycle is secured to a pallet and shipped in an enclosed air ride trailer. Generally shipping times Range between 7-14 days. This service comes with on-line tracking.
How To Ship Your Motorcycle
You'll first need to choose a motorcycle transporter that fits your unique needs. Once you've done your homework on that, you'll have to schedule the pick-up and drop-off details to get a quote. Once you get a price you like, book the shipment and pay. Keep in touch with your provider until the day of service to ensure you have all details covered and you're entirely prepared for the process. Professional motorcycle shippers can take the stress out of shipping a bike because they have the experience and specialized equipment to get the job done right.
How Much Moto Transport Costs
On average, it costs between $400 and $600 to ship a motorcycle about 1,000 miles. For shorter shipments, you're looking at a cost of about $180 to $300. Price will also depend on what you're shipping, whether it's an on-road vehicle or off-road vehicle. Check out what we ship here.
What to Consider When Choosing a Motorcycle Shipping Company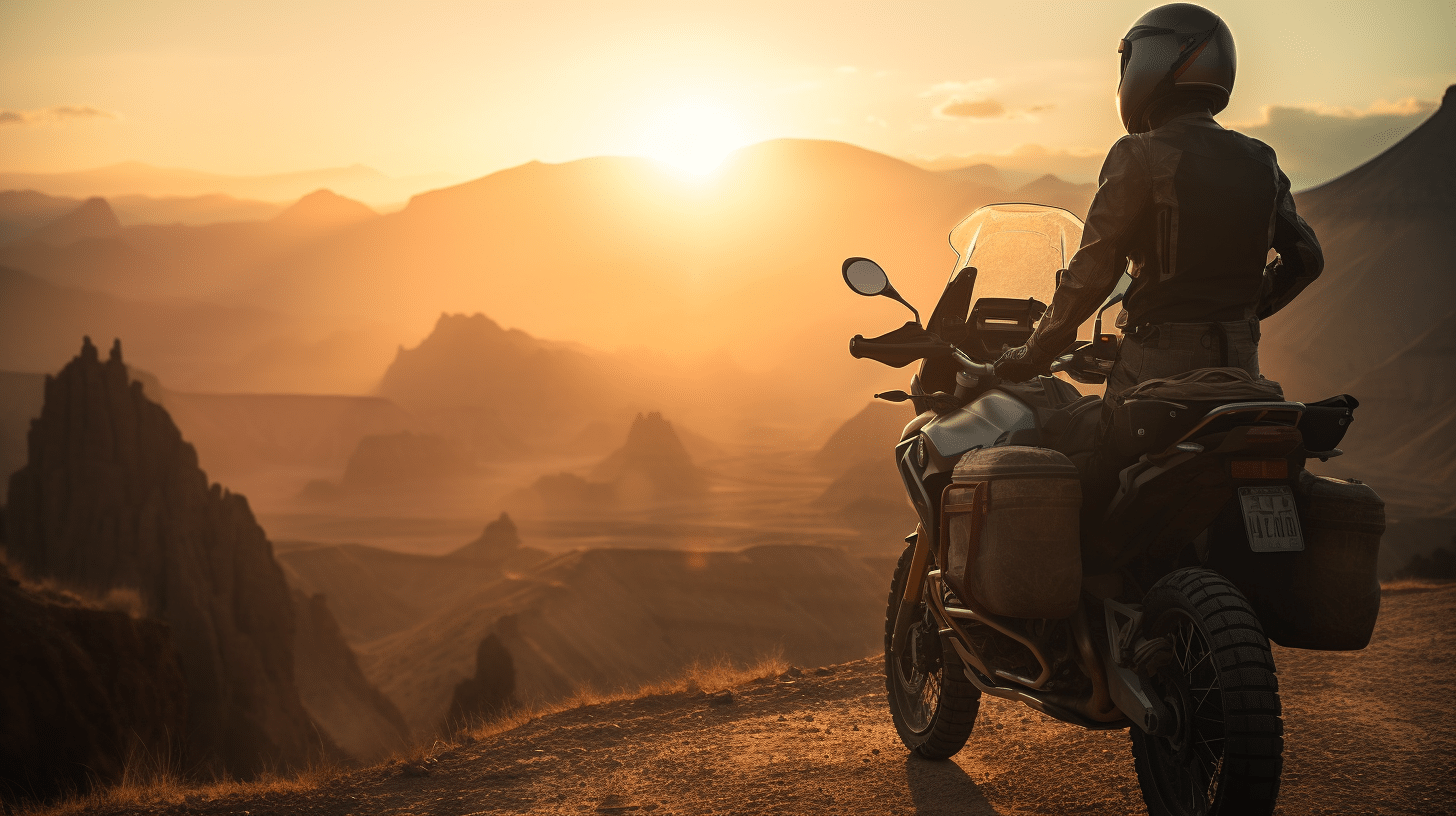 In your search, choose a company that has:
A reliable and proven reputation for motorcycle shipping. Good reviews.
Been specialized motorcycle shippers for many years (we've been in business since 1983)
Competitive rates for door-to-door motorcycle transport
State of the art loading equipment and trucks
Adequate motorcycle shipping insurance (FYI, AA Motorcycle Shipping covers each motorcycle with $7,000 in insurance, with additional insurance available)
Instant quotes
Instant online tracking of your shipment
Generally, you have a couple of options: open trailer or enclosed. Open means your bike may share a truck with several other vehicles and will be exposed to the elements for the journey. Closed means your bike is inside the truck, or even in its own container.
You'll also want to make sure you understand what door-to-door shipping means. In a nutshell, if you live in a spacious neighborhood with no overhanging branches or restrictions, we can pick up your motorcycle at your door and deliver it to the doorstep of the next destination. However, if you live on a narrow, crowded, busy street, a dead end, or in a community that places restrictions on the types of trucks that can inhabit it, we may have to meet you at a nearby parking lot to make the exchange. You can learn more about door to door shopping or any of our processes by visiting our FAQ page.
Motorcycle Shipping Tips
Before shipping your motorcycle, it's important to be prepared for what will happen. There are a few things you need to take care of before that happens. Here are some tips to keep in mind.
Research motorcycle shipping companies, getting at least three estimates from three different companies.
Decide between open and closed shipping. Going more than 500 miles? It's recommended you go with enclosed shipping which provides much better protection for your motorcycle.
Wash your bike and give it a thorough once-over to take note of any existing damage before you ship it.
Take out all personal items and deactivate any alarms that may be on it.
For crate shipping, drain the gas tank and take out the battery.
Prior to the arrival of your motorcycle carrier, it's important to do a once-over to protect your motorcycle during the shipping process. Take photos of the state of your bike and inspect for any marks or dents that are already there. Then, you can better compare the condition later, and if there is a dispute, you can show the photos to the insurance company. It's very rare that a bike is damaged during transport, but it's better to be safe than sorry.
Be early for pickup. The driver will also take the time to look over your motorcycle for pre-existing damage. He will make note of any findings within his report.
Our Latest Blog Posts