Ship Motorcycle
to/from Indiana
Need to ship a motorcycle to or from Indiana? We offer door-to-door motorcycle shipping services. Calculate the shipping costs to/from Indiana using our motorcycle shipping calculator.
Indiana Motorcycle Shipping Company
1-888-347-1391
Indiana Motorcycle Shipping Company
Great
4.2
★
★
★
★
☆
Based on 154 reviews from
review us on
J P
★★★★★
Shipped motorcycle on-time and literally door-to-door - thanks!
Response from the ownerThanks
Gary M
★★★★☆
AA Motorcycle Shipping did a superb job of delivering my bike half-way across the US. The key takeaways are that my bike arrived without a scratch and absolutely on-time. Kudos to the teams.My only critique is that the collection truck and delivery truck both were a total mess and the bike had a fair layer of grime covering it upon arrival. Still, I must report I'm satisfied with the results.
Response from the ownerThank you for the business.
Jay Behr
★★★★★
Instant quote feature was just as described, instantly provided, and was really helpful. Was nice to know how much it would cost to get a bike shipped from current location to end destination.
Response from the ownerThank you for the business Jay
Dori Vardy
★★★★★
I've used them twice now, to move my limited edition, perfect condition motorcycle. They were speedy, professional , affable and my motorcycle arrived in perfect condition. I highly recommend.
Response from the ownerThanks for the business Dori
Shawn Rimmer
★★★★★
I am very happy with the entire experience of shipping a custom painted Harley from Colorado to Florida! Communication from the start was excellent, transit time was minimal (7 days, door to door!) and the bike showed up in the same condition as it left! I'd happily use AA Motorcycle Shipping in the future!
Response from the ownerThank you Shawn
David Young
★★★★★
AA motorcycle shipping was a great choice. They coordinated the delivery of my motorcycle from WA state to Arizona on time and with no damge whatsoever to my motorcycle.
Response from the ownerThank you for the business David
Mark Muir
★★★★★
Completely happy with service..delivery...communicating and planning. I had no idea what to do to get the motorcycle home from Florida or anybody who did this to I found your service...thx again for your job well done!
Loren Zawodny
★★★★★
This was my first experience shipping a motorcycle cross-country. I chose this company because they had transparent service pricing and company information on their website. I also appreciate that when I called, I got a real person, not a call center. Nearly all motorcycle shippers are brokers meaning other service contractors do the actual work. However the tracking of my shipment was very easy using their website. My motorcycle was picked up and delivered on time and in great condition. The pick up and delivery were both very professionally done. I appreciate that this was enclosed shipping on a pallet. I am happy with my experience, and I plan to use them again next time I ship a vehicle.
Response from the ownerThank you Loren for sharing.
Moises Iavarone
★★★★★
Second time I use AA Motorcycles transport, my two bikes made it super safe, love the you can track where you bike if going. I will use them again for sure.
Response from the ownerThanks for the business and the trust.
Virtually Rs
★★★★★
great service 👍🏿 shipped my motorcycle and took a week 1/2 to get delivered from CA to NC
Sean Smith
★★★★★
Quality shipping, on time, and a great overall experience.
Sheldon Russell
★★★★★
I want to thank everyone involved in having my motorcycle picked up and delivered. I will definitely recommend your company to anyone who wants the great service!
Rob Judd
★★★★★
I used AA shipping to move my Africa Twin from the Nashville terminal to the Boise Idaho terminal. The process was simple and straight forward. The bike arrived one day before their estimated date and the bike was in exactly the same condition as when it was shipped. I could not be happier with the whole experience. I will use them for all my future shipping needs.
Thomas Harris
★★★★★
Deb was awesome and made sure the delivery went smooth. The driver was professional and friendly as well. Overall a great experience!
Jenny Merino
★★★★★
This is who we use everytime we need a bike shipped and have been happy every time. When you call you get an actual person, and you can easily track the bike, set it up and pay online. Pick up is quick and easy, and delivery is on time and efficient. Price is similar when we shop around and its so much better than getting those random quotes and calls from shipping companies online. I would recomend aa to anyone needing a bike shipped and we will continue to use them in the future.
Response from the ownerThank you
Ryan Lomasney
★★★★★
Ship my bike from Cali to Georgia bike showed up when It was supposed to no damage to motorcycle would Recommend this company all day and will be doing business with them again for sure
Response from the ownerThank you
Mark Meyerhoff
★★★★★
All of our bikes arrived on time in the same shape as they were when we rolled them on the pallets. AA did a GREAT job! Specifically, Eileen from the Beltmann group in Anaheim went above and beyond to offer us refreshments and food while we waited for our ride, that she helped organize for us. Frankly, she is an exceptional employee in our opinion!!!
Response from the ownerThank you
Joshua Bachman
★★★★★
Shipped my motorcycle from SWFL to Seattle. They picked it up on time and it showed up in perfect shape when I picked it up in Seattle to ride PCH. Great way to start an amazing trip.
Response from the ownerHave a safe trip and thank you for the business.
Charles (Pete) Kittredge
★★★★★
Fair prices, Good service. It arrived on time and in good shape. Excellent, considering it came out of New York City. Nobody else wanted to go in there.
Response from the ownerThank you for the business
Ray Burnett
★★★★★
I shipped my motorcycle with AA and was delivered in a covered truck and was cover inside the truck. Good service and safe transport!
TODD HENTSCH
★★★★★
Shipping from Hawaii to Colorado Easy as can be from start to finish fast and communicated well entire trip I recommend
Erick Snyder
★★★★★
Getting a quote was very fast and very easy. They responded quickly and efficiently.
Ship Motorcycle to Indiana
Do you wish to ship your motorcycle to Alaska? Anchorage is our top shipping destination in Alaska when it comes to motorcycle shipping. This largest city in the state is accessible by main highways driven by our reliable truckers. AA Motorcycle Shipping drivers frequently pick up and drop off cycles of all kinds in main cities in Alaska, mainly Anchorage, home to 292,000 and known for its cultural sites, including the Alaska Native Heritage Center.
The only access to Alaska's highways from the lower 48 states is via the Alaska Highway (AKA the Alcan), which runs 1,520 miles through Canada and Alaska to connect Milepost 0 at Dawson Creek in British Columbia with Delta Junction in Alaska.
We would be glad to provide you with an instant quote now when you complete our online form. There is no commitment necessary – just give us your zip code and bike type to get started.
Call us at 888-347-1391
Door-to-Door Motorcycle Transport in Indiana
The convenience of door-to-door transport throughout Indiana can't be beaten. This state is a coveted destination for many motorcycle enthusiasts, thanks to its many motorcycle routes on the open road. These include Dale to Lanesville, Salem to Brown County, Morgan-Monroe Loop, and Indiana Dunes, Hwy 12.
Perhaps you're buying a bike and need it shipped here, or maybe you're taking a long road trip along Indiana's amazing loops. For anything you need, call us.
We get it: you may have been burned before by other companies with their hidden fees, add-ons, or upsells, or maybe a car shipper disguised as a lead generation company sold your information to other companies.
But that's not what we're all about. We're all about straightforward, honest, convenient, and affordable services when it comes to our state-to-state motorcycle shipping services.
Call us at 888-347-1391
Sales & Customer Support Staff
Dion Saks
He has been with the company since its inception and runs the operations of the business.
Debbie T.
Customer Support/Service Representative. She has been at AA Motorcycle Shipping for 20 years!
Selwyn S.
Customer Support/Customer Service Representative.
20 years of experience at this company.
Julia H.
Accounting/Customer Service Representative.
Over 20 years of experience at this company.
Dave T.
AES Representative / Customer Service Representative.
20 years of experience at the company.
How Much to Ship a Motorcycle to Indiana?
We will require some more information first in order to supply you with an accurate price, but in general:
Your price tag will depend on bike type, destination, and starting point, as well as whether you have an on-road vehicle or an off-road vehicle.
Sample Indiana Motorcycle Shipping Rates
| To / From | Distance | Cost | Estimated Transit Time |
| --- | --- | --- | --- |
| Indianapolis, IN to/from San Diego, CA | 1,900 miles | $1,000 | 1 week |
| Indianapolis, IN to/from Dallas, TX | 770 miles | $700 | 5 days |
| Indianapolis, IN to/from Houston, TX | 980 miles | $839 | 1 week |
| Indianapolis, IN to/from New York, NY | 650 miles | $785 | 5 days |
| Indianapolis, IN to/from San Jose, CA | 2,170 miles | $1,000 | 1 week |
| Indianapolis, IN to/from Miami, FL | 1,060 miles | $884 | 1 week |
| Indianapolis, IN to/from Phoenix, AZ | 1,450 miles | $955 | 1 week |
| Indianapolis, IN to/from Seattle, WA | 2,100 miles | $955 | 1 week |
| Indianapolis, IN to/from Denver, CO | 900 miles | $839 | 1 week |
| Indianapolis, IN to/from Norfolk, VA | 650 miles | $785 | 5 days |
Military Discount Upon Request
Choosing an Indiana Motorcycle Shipping Company
Not sure how to determine which company to trust for your motorcycle shipping needs? Rest assured, we go above and beyond to ensure you are satisfied with our services at all times. With AA Motorcycle Shipping, you get:
As your specialized motorcycle shipper throughout the United States, take comfort in knowing we have been doing this since 1983.
Two Kinds of Motorcycle Shipping
AA Motorcycle Shipping offers palletized shipping to all 48 states in the continental United States, including Indiana. We don't offer unpalletized shipping to most states, and that includes Indiana. We only reserve this option for a few high-volume, selective routes.
Palletized Motorcycle Shipping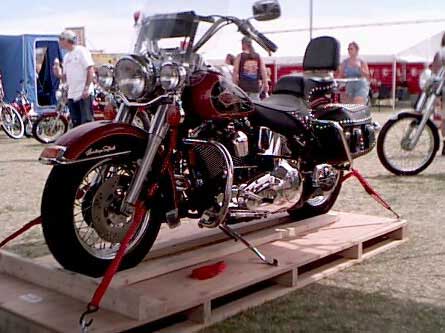 This method is ideal for when you want to ship specialty or high-end motorcycles, vintage cycles or classic bikes that you want to remain protected for the duration. This encloses your bike within our air ride trailers, safely secured to the pallet within the truck. Online tracking is available with this service, and shipments take seven to 14 days.
Daily same-day drop-off shipping is only available at one of our terminals. You must place an order first to get your booking number.
Non-Palletized Motorcycle Shipping
Not offered in Indiana, but these shipments feature shorter in-transit times and take longer to load because the trucking routes are more direct. We secure the bikes to eye bolts on the truck floor but do not offer online tracking with this option.