Ship Motorcycle
to/from North Dakota
Planning for a motorcycle shipping to or from North Dakota? Our seamless door-to-door services are customized to provide you with maximum convenience. Calculate your motorcycle shipping cost to North Dakota using our user-friendly calculator.
North Dakota Motorcycle Shipping Company
1-888-347-1391
North Dakota Motorcycle Shipping Company
Our Google Reviews
Great
4.2
★
★
★
★
☆
Based on 144 reviews from
review us on
Sheldon Russell
★★★★★
I want to thank everyone involved in having my motorcycle picked up and delivered. I will definitely recommend your company to anyone who wants the great service!
Rob Judd
★★★★★
I used AA shipping to move my Africa Twin from the Nashville terminal to the Boise Idaho terminal. The process was simple and straight forward. The bike arrived one day before their estimated date and the bike was in exactly the same condition as when it was shipped. I could not be happier with the whole experience. I will use them for all my future shipping needs.
Thomas Harris
★★★★★
Deb was awesome and made sure the delivery went smooth. The driver was professional and friendly as well. Overall a great experience!
Jenny Merino
★★★★★
This is who we use everytime we need a bike shipped and have been happy every time. When you call you get an actual person, and you can easily track the bike, set it up and pay online. Pick up is quick and easy, and delivery is on time and efficient. Price is similar when we shop around and its so much better than getting those random quotes and calls from shipping companies online. I would recomend aa to anyone needing a bike shipped and we will continue to use them in the future.
Response from the ownerThank you
Ryan Lomasney
★★★★★
Ship my bike from Cali to Georgia bike showed up when It was supposed to no damage to motorcycle would Recommend this company all day and will be doing business with them again for sure
Response from the ownerThank you
Mark Meyerhoff
★★★★★
All of our bikes arrived on time in the same shape as they were when we rolled them on the pallets. AA did a GREAT job! Specifically, Eileen from the Beltmann group in Anaheim went above and beyond to offer us refreshments and food while we waited for our ride, that she helped organize for us. Frankly, she is an exceptional employee in our opinion!!!
Response from the ownerThank you
Joshua Bachman
★★★★★
Shipped my motorcycle from SWFL to Seattle. They picked it up on time and it showed up in perfect shape when I picked it up in Seattle to ride PCH. Great way to start an amazing trip.
Response from the ownerHave a safe trip and thank you for the business.
Charles (Pete) Kittredge
★★★★★
Fair prices, Good service. It arrived on time and in good shape. Excellent, considering it came out of New York City. Nobody else wanted to go in there.
Response from the ownerThank you for the business
Ray Burnett
★★★★★
I shipped my motorcycle with AA and was delivered in a covered truck and was cover inside the truck. Good service and safe transport!
TODD HENTSCH
★★★★★
Shipping from Hawaii to Colorado Easy as can be from start to finish fast and communicated well entire trip I recommend
Erick Snyder
★★★★★
Getting a quote was very fast and very easy. They responded quickly and efficiently.
Scott Snyder
★★★★★
AA did a great job again. I got set up for the shipment and dropped it at their freight center in Chicago the same day! They shipped it to the freight center in San Diego in about a week, which I think is quick. This is my 3rd time using them and they've always been good. Definitely recommend them.
Response from the ownerThank you Scott
Antonelli Vida
★★★★★
Easy to follow online transport quote. The pick up was quick. I got my motorcycle in a week, From North Carolina to California. Only motorcycle transport I use.
Response from the ownerThank you for your support.
Frank Gillen
★★★★★
Everything went great it happened pretty fast also , I'm very happy
Response from the ownerThank you for the business Frank
j z
★★★★★
Third time using AA Motorcycle Shipping. Always great service and always met all commitments. The warehouse staff in Milpitas CA was awesome when we went to pick up the bikes.
Response from the ownerThank you Jay for the business.
Leeza Pilon
★★★★★
Fantastic service every thing was very easy, efficient and professional with great communication
Response from the ownerThank you Leeza
John Hollywood
★★★★★
Been using this company for 2-3 yrs now (I am a motorcycle dealer/seller) and they have always been great. No issues and tracking on shipments is great. I will continue to ship my motorcycles with them.Definitely recommend them A+
delmar wilson
★★★★★
Thank you 😊
Blake Cotlar
★★★★★
I got my motorcycle in 7 days even during the holiday. Motorcycle came exactly how they picked it up, no damages. They were very good at communication I would Call for an estimated time on arrival and they would give it to me. I recommend. Venmo: BlakeCotlar
Matthew Kearney
★★★★★
AA were extremely efficient and handled the transportation of my bike really well, including honoring time windows for pick up and delivery.
Response from the ownerThank you Matthew
Steve Haskins
★★★★★
Perfect not one scratch
Thomas Baxter
★★★★★
AA picked up a motorcycle for me in Ohio and delivered it to Montana, on time and with fine communication. A small plastic part was damaged, and the follow up claims process is being handled well. The bike was secured via attachment to a movable pallatte which assured less risk to the forks and removed need to move bike aroound manually. The specialization shown to long distance motorcycle shipping was appreciated.Tom BaxterAbsorakee, Montana
Ship Motorcycle to North Dakota
North Dakota goes by many names, such as Flickertail State, Sioux State, and Peace Garden State. Our drivers travel through North Dakota on a regular basis, picking up and dropping off motorcycles and other outdoor recreational vehicles. The main city we service in North Dakota is Fargo. Because our truckers travel the main highways in and around Fargo, such as I-29 and I-94, it's easy to get to your destination fast.
Our drivers protect your motorcycle for the trip, making sure it arrives in the same condition as when it left. Whether you're moving here, buying or selling a bike, joining up with a rally, or going to school at North Dakota State University.
We handle anything you may have: choppers, Harleys, vintage bikes, Yamahas, Ducatis, ATVs, dirt bikes, sport bikes, touring bikes, trikes, jet skis, or snowmobiles. Let us supply you with a free instant quote now. Just complete our online form. Please provide us with your zip code and bike type to begin.
Call us at 888-347-1391
Door-to-Door Motorcycle Transport in North Dakota
If the reason you're shipping a cycle to North Dakota is to enjoy a vacation, extended stay, or a permanent move, you're in luck. North Dakota is teeming with stunning motorcycle routes, such as The Chan Sansan Scenic Backway, Des Lacs National Wildlife Refuge Scenic Backway, and Rendezvous Region Scenic Backway.
Perhaps you're looking to buy or sell a bike. Whatever the case, you won't be subjected to hidden fees, add-ons, or upsells when you book with us. Choose us confidently for affordable shipping rates to North Dakota.
Sales & Customer Support Staff
Dion Saks
He has been with the company since its inception and runs the operations of the business.
Debbie T.
Customer Support/Service Representative. She has been at AA Motorcycle Shipping for 20 years!
Selwyn S.
Customer Support/Customer Service Representative.
20 years of experience at this company.
Julia H.
Accounting/Customer Service Representative.
Over 20 years of experience at this company.
Dave T.
AES Representative / Customer Service Representative.
20 years of experience at the company.
How Much to Ship a Motorcycle to North Dakota?
We will need more info from you, such as whether you're planning to ship an on-road vehicle or off-road vehicle to North Dakota, to provide more accuracy in our quote. We also need to know the zip code and bike make and model.
You can generally expect to pay between $400 and $800 to ship a motorcycle 1,000 miles. For shorter shipments, the price is between $180 to $300.
Sample North Dakota Motorcycle Shipping Rates
| To / From | Distance | Cost | Estimated Transit Time |
| --- | --- | --- | --- |
| Fargo, ND to/from San Diego, CA | 1,840 miles | $1145 | 1 week |
| Fargo, ND to/from Dallas, TX | 1,300 miles | $984 | 1 week |
| Fargo, ND to/from Newark, NJ | 1,320 miles | $984 | 1 week |
| Fargo, ND to/from New York, NY | 1,370 miles | $984 | 1 week |
| Fargo, ND to/from San Jose, CA | 1,920 miles | $1145 | 1 week |
| Fargo, ND to/from Miami, FL | 1,930 miles | $1145 | 1 week |
| Fargo, ND to/from Phoenix, AZ | 1,540 miles | $1100 | 1 week |
| Fargo, ND to/from Norfolk, VA | 1,370 miles | $1100 | 1 week |
| Fargo, ND to/from Denver, CO | 930 miles | $984 | 1 week |
| Fargo, ND to/from Sacramento, CA | 1,810 miles | $1145 | 1 week |
Military Discount Upon Request
Choosing a North Dakota Motorcycle Shipping Company
When requiring a motorcycle shipment to or from Fargo, North Dakota, and surrounding areas, you want to make sure you're choosing the best partner. Choose us for our efficient motorcycle shipments to and from North Dakota for these reasons:
Two Kinds of Motorcycle Shipping
We offer palletized shipping to all 48 states in the continental United States, including North Dakota. We also offer an unpalletized option on certain routes in America, of which North Dakota is NOT included.
Palletized Motorcycle Shipping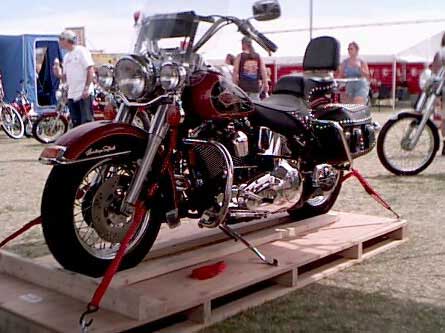 This option, ensuring the most protection for your bike, means your motorcycle will be secured to a pallet and shipped in an enclosed air ride trailer. The shipment takes between seven and 14 days, with available online tracking. You will like this option if you have a specialty or high-end motorcycle and vintage or classic bike you want to protect.
Daily same-day drop-off shipping is only available at one of our terminals. You must place an order first to get your booking number.
Non-Palletized Motorcycle Shipping
This option is NOT offered in North Dakota. For other qualifying states such as Texas or Florida, though, these shipments take longer to load but the in-transit times are shorter since the trucking routes through the main cities are more direct. Your motorcycle is strapped to eye bolts on the floor of the truck. No online tracking is available.