Ship Motorcycle
to/from Tennessee
Looking to transport a motorcycle to or from Tennessee? We provide convenient options including door-to-door delivery or the choice to utilize any of our 47 terminals for pick up or drop off. Utilize our motorcycle shipping cost calculator for shipments to or from Tennessee. Same day drop-off shipments available only for palletized shipping.
Tennessee Motorcycle Shipping Company
1-888-347-1391
Tennessee Motorcycle Shipping Company
Our Tennessee Terminal
(In Case You Want to Pickup/Drop Off Your Motorcycle)
5014 Harding Place,
Nashville, TN 37211
Our 47 Shipping Terminals
As long as you make your purchase within regular business hours, you have the flexibility to drop off your motorcycle at any of our terminals. After your order is confirmed, you'll receive a booking number. Many opt for same-day shipping due to reasons such as a random road trip, dealing with back or knee pain, or facing a family emergency. Same day drop-off shipments are available only for palletized shipping.
Albuquerque-Columbus
Dallas-Jacksonville
Kansas City-Minneapolis
Nashville-Portland
Raleigh-Tampa
Albuquerque, NM
1600 1st NW
Albuquerque, NM 87102
Dallas, TX
2242 Manana Drive
Dallas, TX 75220
Kansas City, MO
5001 W Geospace Dr.
Independence, MO 64056
Nashville, TN
5014 Harding Place
Nashville, TN 37211
Raleigh, NC
530 Hinton Oaks Blvd Ste 400
Knightdale, NC 27545
Anchorage, AK
209 Post Road
Anchorage, AK 99501
Denver, CO
22700 East 176 Frontage Road, Suite 100
Brighton, CO 80603
Las Vegas, NV
1780 S Mojave Rd
Las Vegas, NV 89104
New York City, NY
6 Fitzgerald Avenue
Monroe Township, NJ 08831-3729
Richmond, VA
4271 Carolina Ave.
Richmond, VA 23222
Atlanta, GA
1485 Westlake Parkway
Atlanta, GA 30336
Detroit, MI
26765 Fullerton
Redford, MI 48239
Laurel, MD
13200 Mid Atlantic Blvd
Brick Yard Business Park
Laurel, MD 20707
Omaha, NE
4510 F Street
Omaha, NE 68117
Sacramento, CA
3065 Ramco St., Suite 175
West Sacramento, CA 95691
Billings, MT
7232 Grand Avenue
Billings, MT 59106
Eugene, OR
3330 Roosevelt Boulevard
Eugene, OR 97402
Los Angeles, CA
3320 E. Miraloma Ave.
Anaheim, CA 92806
Orlando, FL
6310 Hoffner Ave.
Orlando, FL 32822
Salt Lake City, UT
2571 West 2590 S.
Salt Lake City, UT 84119
Boise, ID
3340 S. Denver Way
Boise, ID 83705
Grand Rapids, MI
600 E Riley Street
Zeeland, MI 49464
Lowell, MA
263 Industrial Avenue
Lowell, MA 01852
Pasco, WA
2405 E Ainsworth St
Pasco, WA 99301
San Diego
12302 Kerran St Ste 200
Poway, CA 92064
Bolingbrook, IL
900 Windham Parkway, Suite A
Bolingbrook, IL 60490
Hartford, CT
250 Commerce Circle
New Britain, CT 06051
Medford, OR
2061 Lars Ways
Medford, OR 97501
Philadelphia, PA
425 Schoolhouse Road
Telford, PA 18969
San Jose, CA
887 Wrigley Way
Milpitas, CA 95035
Charlotte, NC
10240 Western Ridge Rd, Ste. A
Charlotte, NC 28273
Houston, TX
9619 Kirkton
Houston, TX 77095
Midland, TX
3411 W Industrial Ave
Midland, TX 79703
Phoenix, AZ
3815 West Washington Street
Phoenix, AZ
Seattle, WA
1519 St. Paul Avenue
Tacoma, WA 98421
Columbia, SC
120 Queen Parkway
W. Columbia, SC 29169
Iowa City, IA
2820 S. Riverside Drive
Iowa City, IA 52246
Milwaukee, WI
N8 W22270 Johnson Drive
Waukesha, WI 53186
Pittsburgh, PA
121 Tri County Drive, Building 5
Freedom, PA 15042
St. Louis, MO
4045 Lakefront Ct.
Earth City, MO 63045
Columbus, OH
2020 Williams Road
Columbus, OH 43207
Jacksonville, FL
550 Gun Club Road
Jacksonville, FL 32218
Minneapolis, MN
2480 Long Lake Road
Roseville, MN 55113
Pompano Beach, FL
3039 North Andrews Avenue Ext.
Pompano Beach, FL 33064
Syracuse, NY
6412 Deere Road Suite 3
Syracuse, NY 13206
Portland, OR
19470 Southwest 118th Avenue
Tualatin, OR 97062
Tampa, FL
5105 W. Knox St.
Tampa, FL 33634
Military, Veteran, and 1st Responder Discount Available. Submit a quote, then call us!
Sales & Customer Support Staff
Dion Saks
He has been with the company since its inception and runs the operations of the business.
Debbie T.
Customer Support/Service Representative. She has been at AA Motorcycle Shipping for 20 years!
Selwyn S.
Customer Support/Customer Service Representative.
20 years of experience at this company.
Julia H.
Accounting/Customer Service Representative.
Over 20 years of experience at this company.
Dave T.
AES Representative / Customer Service Representative.
20 years of experience at the company.
How Much to Ship a Motorcycle to Tennessee?
We will require some more information first in order to supply you with an accurate price, but in general:
$400 to $800 to ship your motorcycle 1,000 miles
$180 to $300 for shorter shipments
Your price tag will depend on bike type, destination, and starting point, as well as whether you have an on-road vehicle or an off-road vehicle.
Sample Tennessee Motorcycle Shipping Rates
| To / From | Distance | Cost | Estimated Transit Time |
| --- | --- | --- | --- |
| Nashville, TN to/from San Diego, CA | 2,200 miles | $1000 | 2 weeks |
| Nashville, TN to/from Dallas, TX | 750 miles | $550 | 5 days |
| Nashville, TN to/from Seattle, WA | 2,400 miles | $1055 | 2 weeks |
| Nashville, TN to/from New York, NY | 900 miles | $839 | 1 week |
| Nashville, TN to/from San Jose, CA | 2,400 miles | $1000 | 2 weeks |
| Nashville, TN to/from Miami, FL | 950 miles | $884 | 1 week |
| Nashville, TN to/from Phoenix, AZ | 1,800 miles | $890 | 1 week |
| Nashville, TN to/from Norfolk, VA | 700 miles | $645 | 5 days |
| Nashville, TN to/from Denver, CO | 1,400 miles | $839 | 1 week |
| Nashville, TN to/from Sacramento, CA | 2,400 miles | $1000 | 2 weeks |
Military Discount Upon Request
Great
4.2
★
★
★
★
☆
Based on 154 reviews from
review us on
J P
★★★★★
Shipped motorcycle on-time and literally door-to-door - thanks!
Response from the ownerThanks
Gary M
★★★★☆
AA Motorcycle Shipping did a superb job of delivering my bike half-way across the US. The key takeaways are that my bike arrived without a scratch and absolutely on-time. Kudos to the teams.My only critique is that the collection truck and delivery truck both were a total mess and the bike had a fair layer of grime covering it upon arrival. Still, I must report I'm satisfied with the results.
Response from the ownerThank you for the business.
Jay Behr
★★★★★
Instant quote feature was just as described, instantly provided, and was really helpful. Was nice to know how much it would cost to get a bike shipped from current location to end destination.
Response from the ownerThank you for the business Jay
Dori Vardy
★★★★★
I've used them twice now, to move my limited edition, perfect condition motorcycle. They were speedy, professional , affable and my motorcycle arrived in perfect condition. I highly recommend.
Response from the ownerThanks for the business Dori
Shawn Rimmer
★★★★★
I am very happy with the entire experience of shipping a custom painted Harley from Colorado to Florida! Communication from the start was excellent, transit time was minimal (7 days, door to door!) and the bike showed up in the same condition as it left! I'd happily use AA Motorcycle Shipping in the future!
Response from the ownerThank you Shawn
David Young
★★★★★
AA motorcycle shipping was a great choice. They coordinated the delivery of my motorcycle from WA state to Arizona on time and with no damge whatsoever to my motorcycle.
Response from the ownerThank you for the business David
Mark Muir
★★★★★
Completely happy with service..delivery...communicating and planning. I had no idea what to do to get the motorcycle home from Florida or anybody who did this to I found your service...thx again for your job well done!
Loren Zawodny
★★★★★
This was my first experience shipping a motorcycle cross-country. I chose this company because they had transparent service pricing and company information on their website. I also appreciate that when I called, I got a real person, not a call center. Nearly all motorcycle shippers are brokers meaning other service contractors do the actual work. However the tracking of my shipment was very easy using their website. My motorcycle was picked up and delivered on time and in great condition. The pick up and delivery were both very professionally done. I appreciate that this was enclosed shipping on a pallet. I am happy with my experience, and I plan to use them again next time I ship a vehicle.
Response from the ownerThank you Loren for sharing.
Moises Iavarone
★★★★★
Second time I use AA Motorcycles transport, my two bikes made it super safe, love the you can track where you bike if going. I will use them again for sure.
Response from the ownerThanks for the business and the trust.
Virtually Rs
★★★★★
great service 👍🏿 shipped my motorcycle and took a week 1/2 to get delivered from CA to NC
Sean Smith
★★★★★
Quality shipping, on time, and a great overall experience.
Sheldon Russell
★★★★★
I want to thank everyone involved in having my motorcycle picked up and delivered. I will definitely recommend your company to anyone who wants the great service!
Rob Judd
★★★★★
I used AA shipping to move my Africa Twin from the Nashville terminal to the Boise Idaho terminal. The process was simple and straight forward. The bike arrived one day before their estimated date and the bike was in exactly the same condition as when it was shipped. I could not be happier with the whole experience. I will use them for all my future shipping needs.
Thomas Harris
★★★★★
Deb was awesome and made sure the delivery went smooth. The driver was professional and friendly as well. Overall a great experience!
Jenny Merino
★★★★★
This is who we use everytime we need a bike shipped and have been happy every time. When you call you get an actual person, and you can easily track the bike, set it up and pay online. Pick up is quick and easy, and delivery is on time and efficient. Price is similar when we shop around and its so much better than getting those random quotes and calls from shipping companies online. I would recomend aa to anyone needing a bike shipped and we will continue to use them in the future.
Response from the ownerThank you
Ryan Lomasney
★★★★★
Ship my bike from Cali to Georgia bike showed up when It was supposed to no damage to motorcycle would Recommend this company all day and will be doing business with them again for sure
Response from the ownerThank you
Mark Meyerhoff
★★★★★
All of our bikes arrived on time in the same shape as they were when we rolled them on the pallets. AA did a GREAT job! Specifically, Eileen from the Beltmann group in Anaheim went above and beyond to offer us refreshments and food while we waited for our ride, that she helped organize for us. Frankly, she is an exceptional employee in our opinion!!!
Response from the ownerThank you
Joshua Bachman
★★★★★
Shipped my motorcycle from SWFL to Seattle. They picked it up on time and it showed up in perfect shape when I picked it up in Seattle to ride PCH. Great way to start an amazing trip.
Response from the ownerHave a safe trip and thank you for the business.
Charles (Pete) Kittredge
★★★★★
Fair prices, Good service. It arrived on time and in good shape. Excellent, considering it came out of New York City. Nobody else wanted to go in there.
Response from the ownerThank you for the business
Ray Burnett
★★★★★
I shipped my motorcycle with AA and was delivered in a covered truck and was cover inside the truck. Good service and safe transport!
TODD HENTSCH
★★★★★
Shipping from Hawaii to Colorado Easy as can be from start to finish fast and communicated well entire trip I recommend
Erick Snyder
★★★★★
Getting a quote was very fast and very easy. They responded quickly and efficiently.
Ship Motorcycle to Tennessee
Nashville and Knoxville are the most popular destinations that we ship to in the Volunteer State. There's a good reason for that. These cities are situated along major highways that make it easy for our drivers to get to you for delivery or pickup, such as I-40, I-24, I-65 in I Nashville and I-40 in Knoxville.
You may wonder why you should choose us to ship your motorcycle. Well, AA Motorcycle Shipping has a proven record of safely and affordably shipping motorcycles to top cities in Tennessee, whether this involves choppers, Harleys, vintage bikes, Yamahas, or Ducatis. We even ship ATVs, dirt bikes, sport bikes, touring bikes, trikes, jet skis, or snowmobiles.
So if you've bought or sold a motorcycle in Bloomington or you're joining up with a rally in Tennessee, we can get your bike there.
Call us at 888-347-1391
3 Motorcycle Shipping Services
Terminal-to-Door/Door-to-Terminal
With a total of 47 shipping terminals, our network spans wide. While our foremost sought-after option remains door-to-door shipping, the second most favored service involves utilizing our terminals. You have the flexibility to either drop off or collect your motorcycle at any of these locations.
Door-to-Door Transport
On a daily basis, we transport motorcycles to individuals' residences. Regardless of how distant or rural your location might be, we are capable of delivering motorcycle shipping services directly to your doorstep.
Terminal-to-Terminal
The majority of individuals who opt for terminal-to-terminal shipping are those participating in group rides. This service is particularly advantageous for one-way road trips, enabling motorcyclists to finish their journeys at one of our terminals and have their motorcycles shipped back to their homes.
Choosing a Tennessee Motorcycle Shipping Company
Not sure how to determine which company to trust for your motorcycle shipping needs? Rest assured, we go above and beyond to ensure you are satisfied with our services at all times. With AA Motorcycle Shipping, you get:
As your specialized motorcycle shipper throughout the United States, take comfort in knowing we have been doing this since 1983.
Two Kinds of Motorcycle Shipping
AA Motorcycle Shipping offers palletized shipping to all 48 states in the continental United States, including Tennessee. We don't offer unpalletized shipping to most states, and that includes Tennessee. We only reserve this option for a few high-volume, selective routes.
Palletized Motorcycle Shipping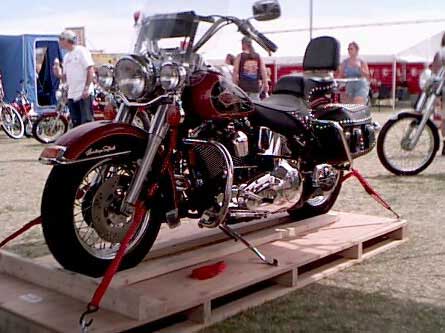 This method is ideal for when you want to ship specialty or high-end motorcycles, vintage cycles, or classic bikes that you want to remain protected for the duration. This encloses your bike within our air ride trailers, safely secured to the pallet within the truck. Online tracking is available with this service, and shipments take 7 to 14 days.
Daily same-day drop-off shipping is only available at one of our terminals. You must place an order first to get your booking number.
Non-Palletized Motorcycle Shipping
Not offered in Tennessee, but these shipments feature shorter in-transit times and take longer to load because the trucking routes are more direct. We secure the bikes to eye bolts on the truck floor but do not offer online tracking with this option.