Stuck to a Pallet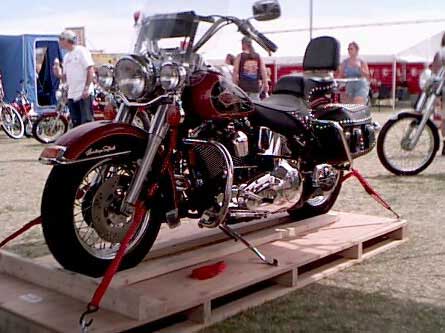 I move a lot! It's part of my job description. In the past four years, I have moved living situations six times. But not one of those times have I left my trusty motorcycle behind. I will not move without it. When it comes down to it, I'm an expert in motorcycle shipping. But there is one area that had been a bit of a grey spot. But no longer.
Is it essential to ship your motorcycle on a pallet?
In my opinion ABSOLUTELY!
I have used flatbed trucks for short distances, where the bike is ridden onto the truck and secured on the flatbed with straps to the truck and wheels. I have used a flatbed with a tied down dolly system. I have loaded the bike myself onto a trailer and hauled it behind my car. I've even loaded it onto my own pickup and transported it myself.
None of these situations have been satisfactory for me. Bikes have been marked up, scratched, dropped, arrived dirty and in some cases even driven. The time it takes to load and arrange is way too long. Riding up a ramp requires a lot of skill and always runs the risk of failing, resulting in major damage.
Hands down I swear the best way to transport a motorcycle is on a pallet in an enclosed carrier. There are motorcycle-shipping companies that supply a specialized pallet that have cut outs in the pallet for your wheels to fit into. This is the most secure way to transport it. The bike is then secured to the pallet using soft tie straps that do not mark up the bike. Once in the truck, it is once again secured using straps to the walls, so there is absolutely no room for movement during the transport. There is no shaking around or balancing involved. Loading in and out of the truck is by use of pallet jacks. The bike is already secured on the pallet, so once again there is no room for movement or balancing.
I'm telling you, there is nothing like the feeling of receiving your bike in the same condition as you left it! The actual loading of the bike takes a maximum of 30 minutes. It's quick, it's secure, and it's effortless and most of all stressless. It may as well have been sitting in garage waiting for it's next ride. It arrives without scratches and clean. I will never ship my bike without using a pallet again.
Do any of you have other suggestions or anything to add to your experience of motorcycle shipping?